We crafters sometimes become so engrossed in our own creative endeavors, that we often never think about the creative endeavors of others who make it possible for us to create the things that we're able to craft after a burst of inspiration. How often do you look at the actual design in the gorgeous fabric you just cut into for a project and thought about the surface design skills and hours spent finding the right color combinations and placement for the repeated pattern under your fingertips? Probably not very often, if at all (especially if you work solely in solids).
Yet, without those clever people who can work a computer program to do their graphical bidding, we wouldn't have an amazing array of textiles at our local quilt shops or amongst the online purveyors to manipulate into our makes. However, for every wondrous fabric print that dances across our path, there's dozens of others off in the wings who will never get their chance in the spotlight. So when a fabric line is launched, especially for a designer's first line, it's a monumental occasion—and deserves a lot of celebrating!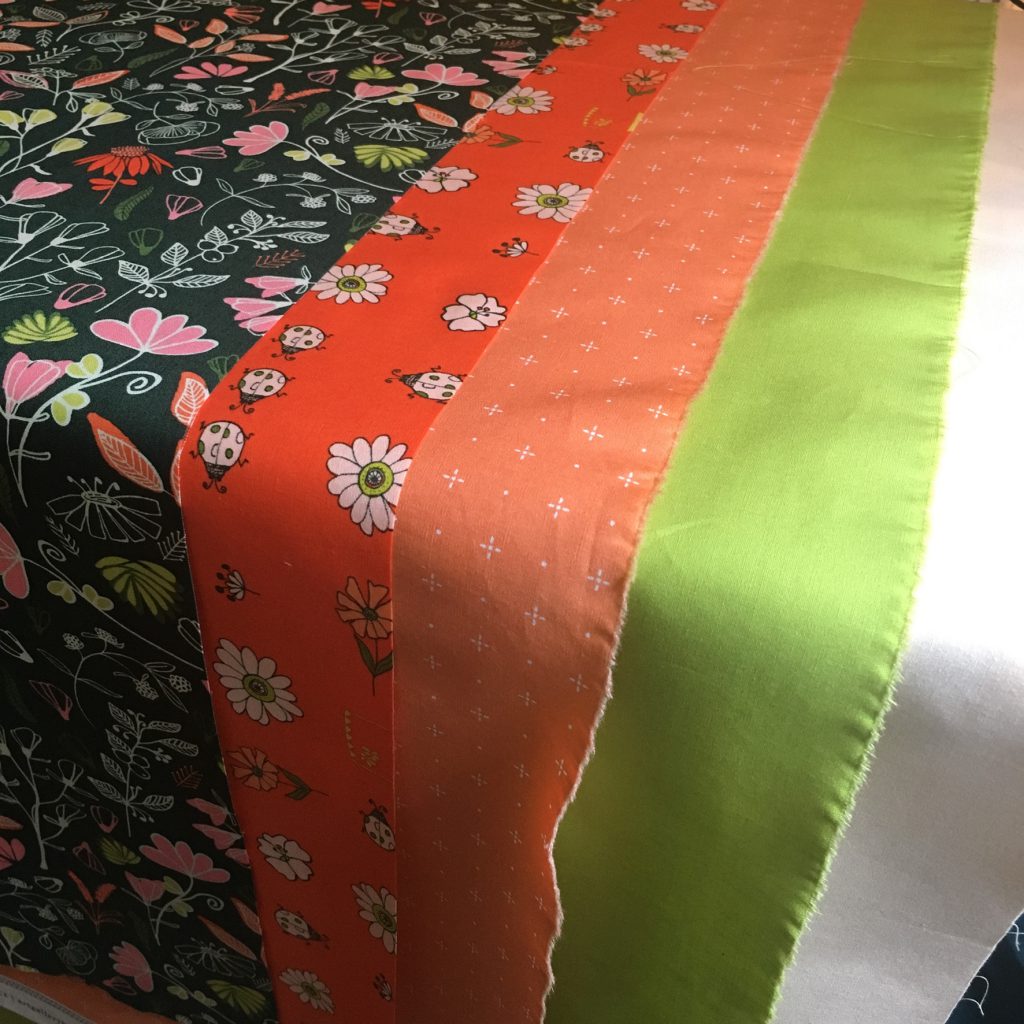 Right now, it's time to celebrate Alexandra Bordallo's Dew and Moss line for Art Gallery Fabrics which just launched this August. With a collection of ladybugs, caterpillars, mushrooms, wildflower, and gnome homes with shades of hunter green, saffron red-orange, peach, carnation pink, and spring green, it's the perfect print for some fall whimsy for those of us who aren't quite ready to give up the best parts of summer. With the addition of Pure Elements Solids from Art Gallery Fabrics as well to pair with those gnomes and their buggy and flowery friends, the wealth of creative options is as endless as the amount of leaves that will fall during the season.
New seasons are a good time for new releases–and for trying new things. When I was asked by Sheri Cifaldi-Morrill of Whole Circle Studio if I had any interest in making her Ladybug Loop pattern in these soft, luxurious fabrics, I readily agreed to the project as it used one of my favorite quilt making techniques: foundation paper piecing. But I also saw the potential for finally using the ruler templates I had taken a class on the year before and also the ones I had recently purchased that were designed by Sarah Thomas of Sariditty.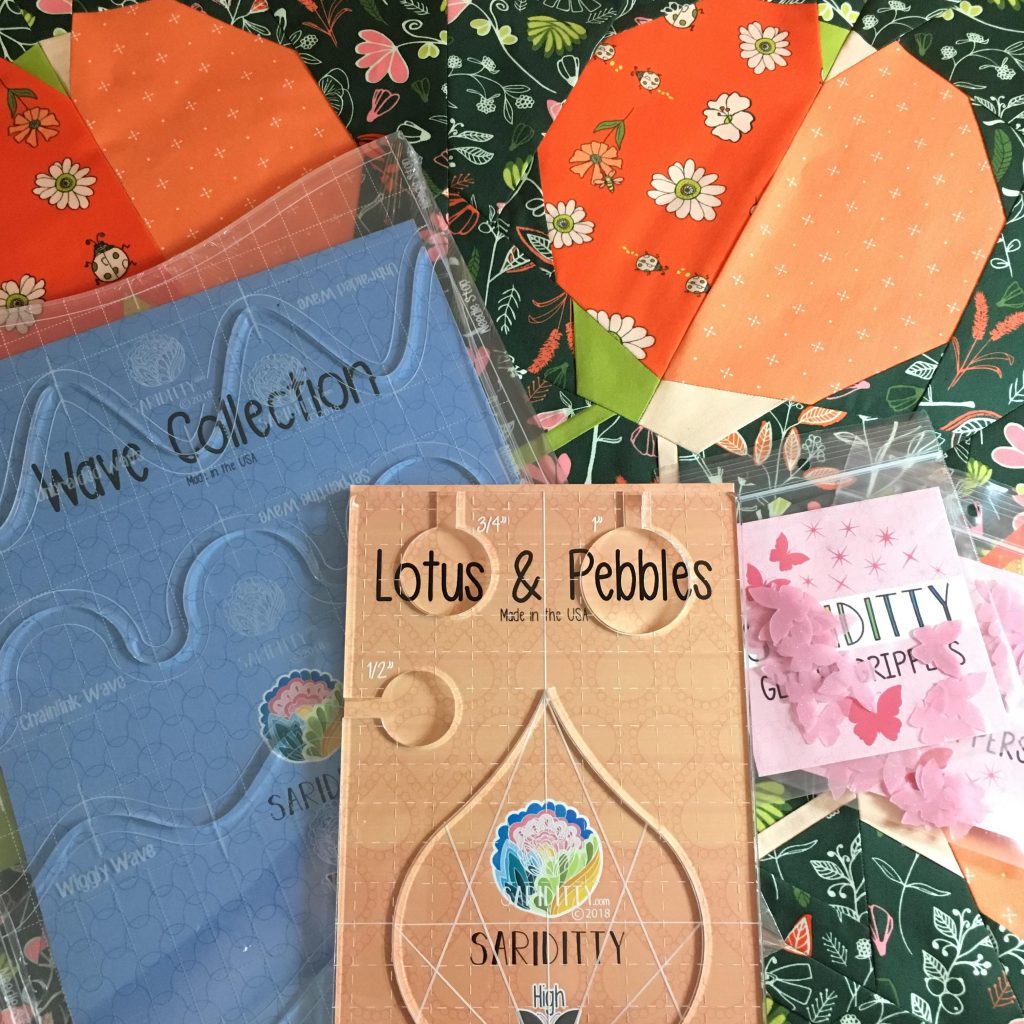 Of course, before any quilting can commence, a quilt needs to be made. Working with this lovely line of fabrics was a joy. It was a constant revelation of little Easter eggs when working with some of the prints and I'd notice a new little bit of the design and find myself smiling. Also, the feel of the cotton is heavenly and very easy to work with as you sew as there's minimal shedding of stray threads. I never went to bed adding more thread count to the sheet set I already bought. I will admit that it was somewhat daunting to try to keep the glorious "Glowy Bosque" background fabric all directionally pointing upward in the final piece as I was sewing the FPP sections–the back of the template paper had lots of arrows that at one point resembled hieroglyphics.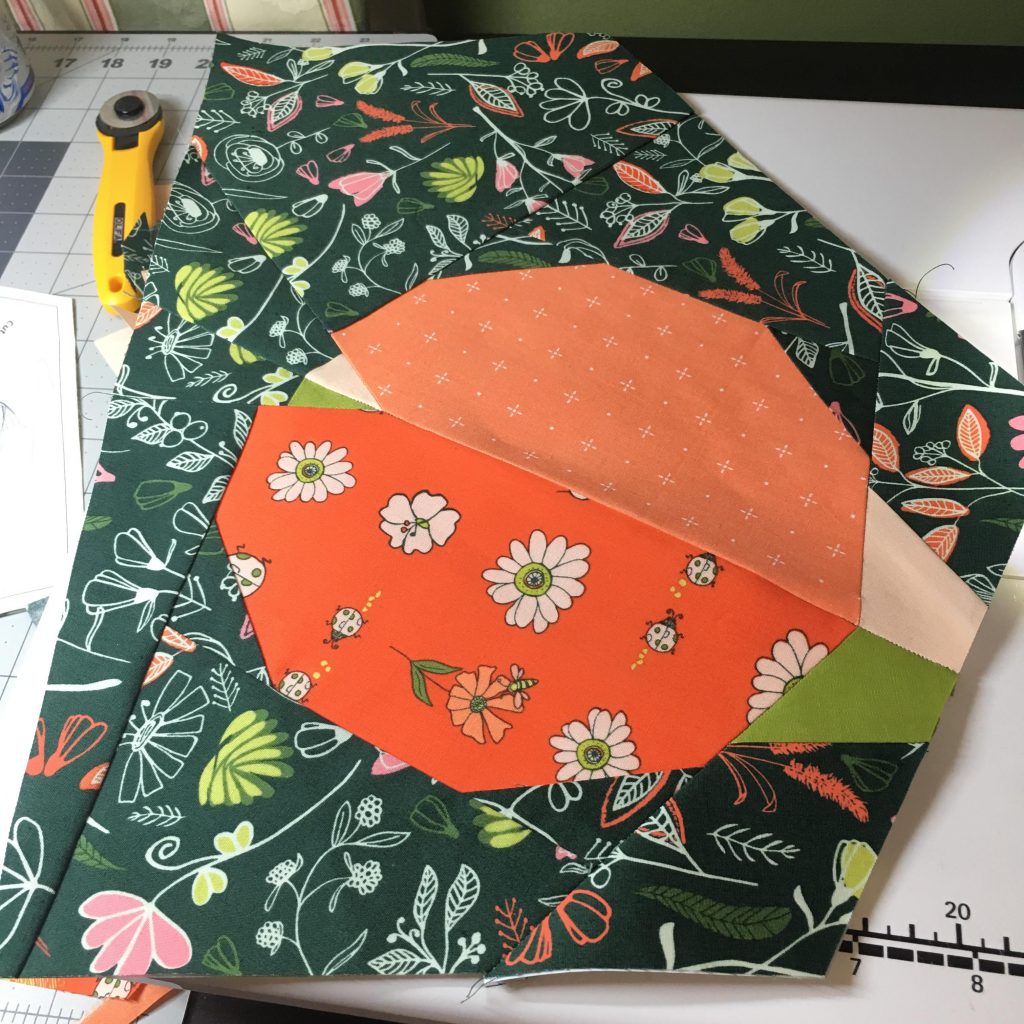 In the end, all the hieroglyphics were worth the extra effort, and final steps could begin. I chose to use the Sariditty "Lotus & Pebbles" template to add the dots to the ladybugs' wings (Pebbles part of the template) and the large leaves' outline on the outer edge of the quilt used the "Lotus" part of the template, which were then filled in with free motion quilting to add the leaf detail. The wind waves were added with the "Rolling Wave" ruler. The center flower design was added with Westalee Ruler's "Circles on Quilts" template.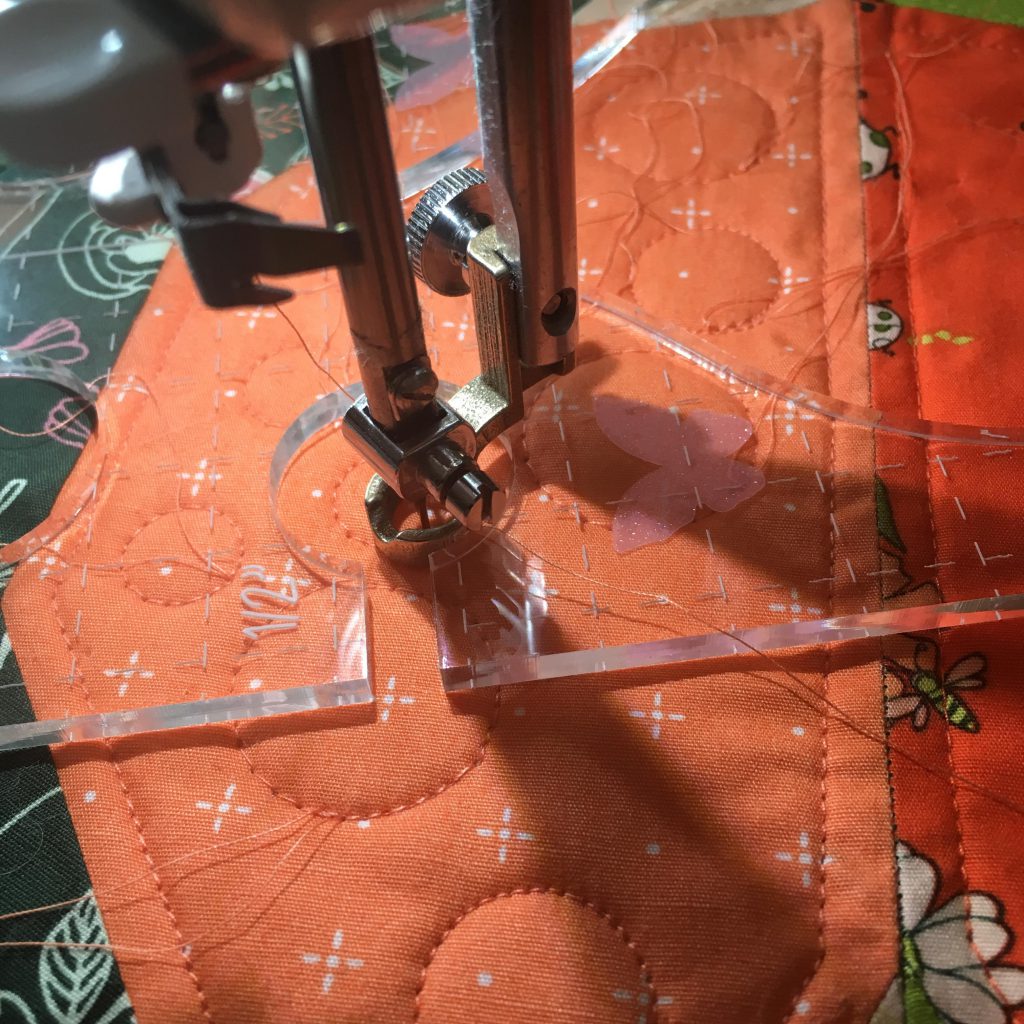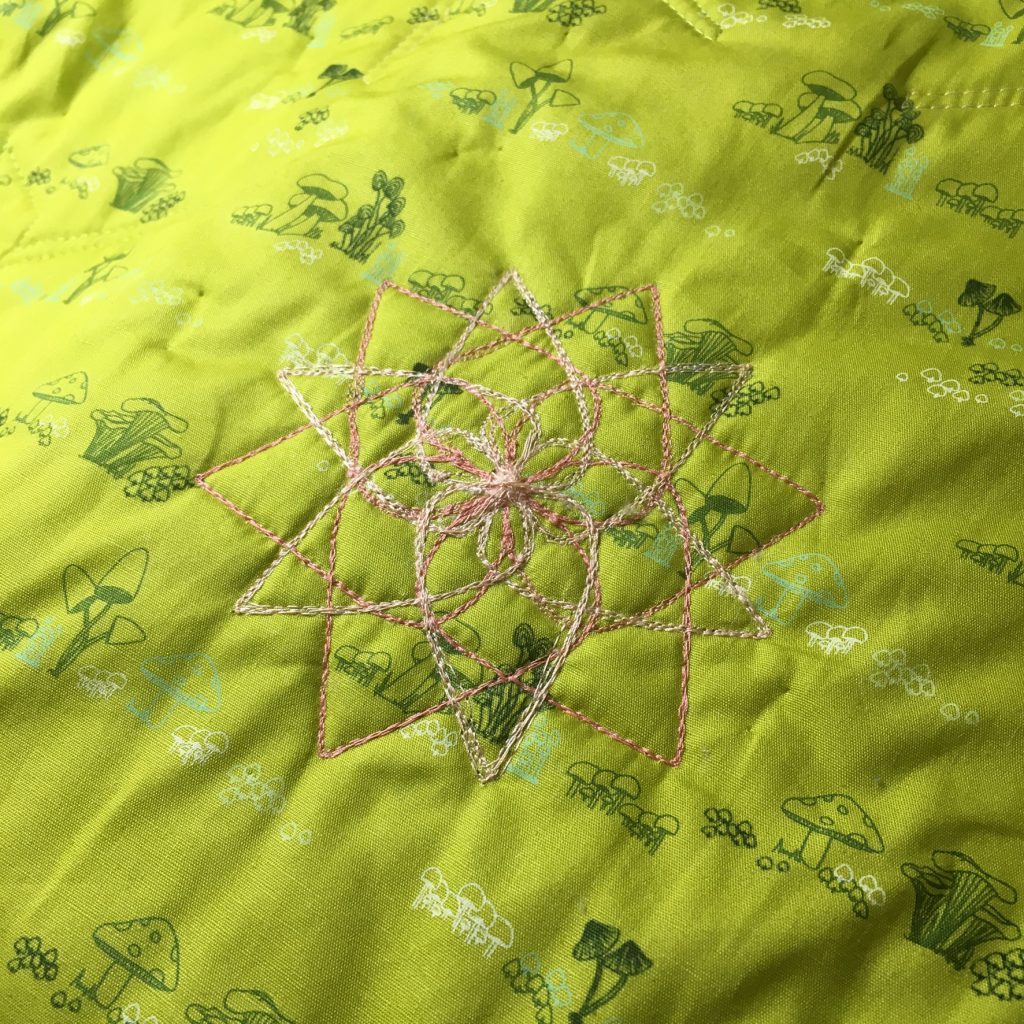 Using Aurifil 50wt thread throughout the quilt in corresponding colors on the ladybugs, but with a little bit of contrasting pinks in the "Glowy Bosque" background, helped breathe a little extra life into this quilt. Plus, this thread is wonderful for the heavy duty task of free motion quilting and ruler work–I find that it stands up to the demands of the needle and the machine beautifully without complaint.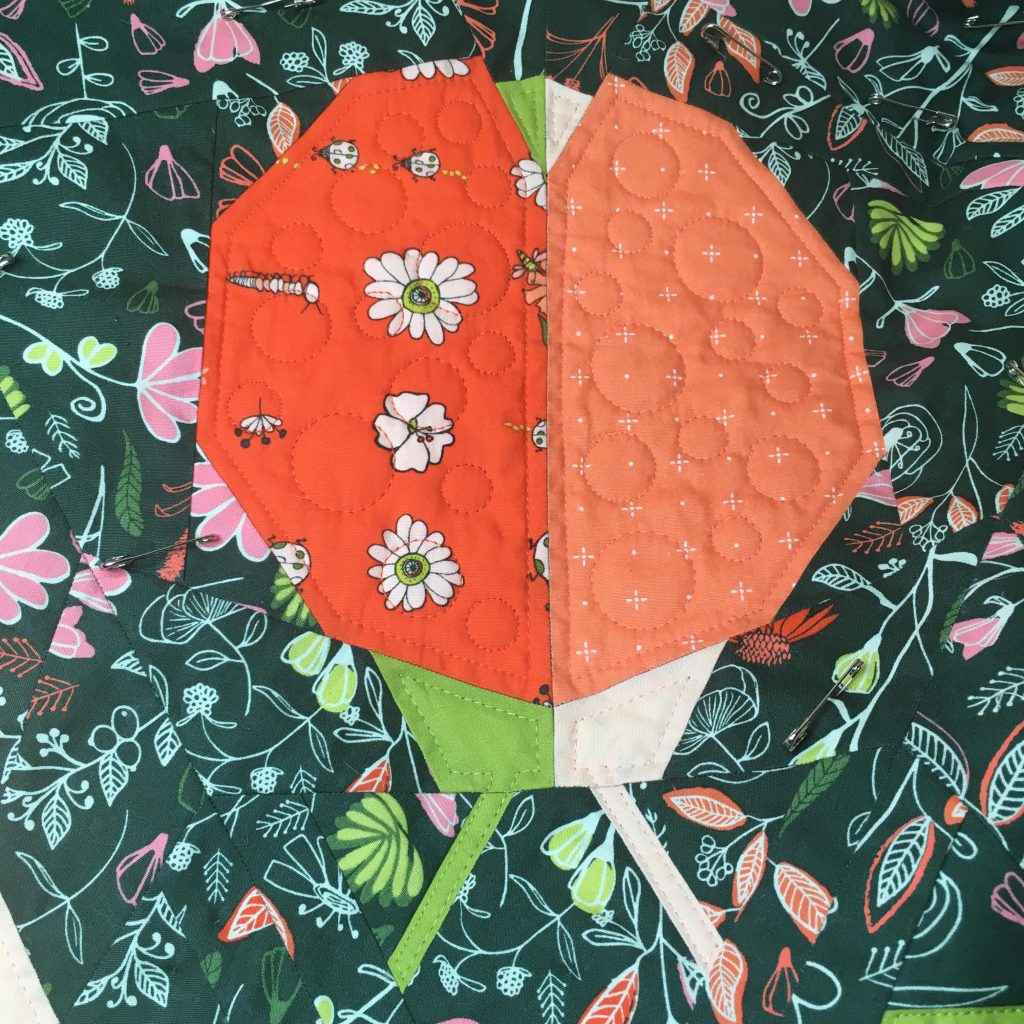 To finish off my looping of ladybugs, I decided to do a double binding, or also known as a flanged binding. I liked the idea of adding another edge of solid between the "Glowy Bosque" before the lovely "Bugsy & Posy" outside binding takes an evening bow.